Communities for Restorative Justice (C4RJ) is a growing nonprofit that provides a powerful option within the justice system—for people, communities, and law enforcement alike.
Fall 2020 New Volunteer Training
We held our first ever C4RJ New Volunteer Virtual Training. It was a success! We had 30 participants join us from across the state, coming with a range of backgrounds in restorative justice ready to learn from each other. We are so pleased to welcome our new Boston and Western Mass volunteers!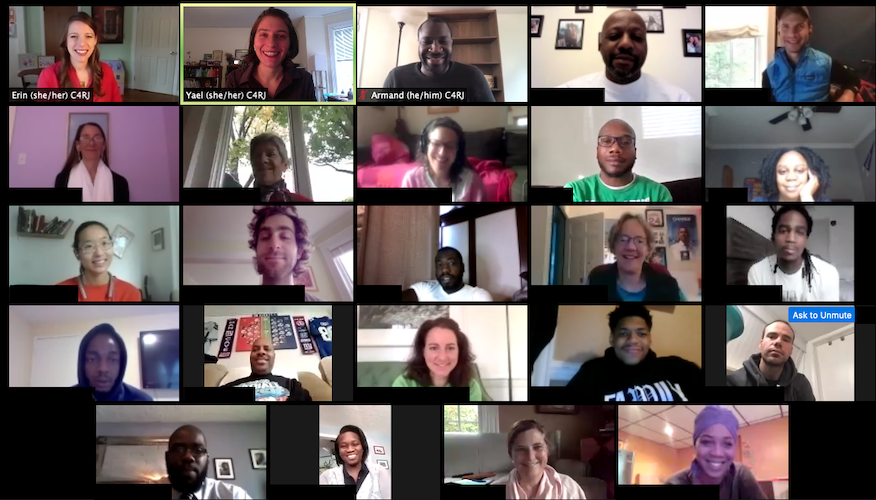 Pathways to Restorative Communities
A C4RJ guide to restorative practices in schools is now available.

C4RJ is proud to announce the availability of A Restorative Practices Guide—How Schools Can Build Community and Address Conflicts. This guide is the culmination of a three-year grant to introduce Restorative Practices into Malden High School.

The intent of the guide is to provide an introduction to the use of restorative practices and to provide school personnel with a resource for designing and implementing these ideas. Our partner, Pathways to Restorative Communities, uses this guide in their work with schools and other organizations interested in learning about and incorporating Restorative Practices into their work.
---
---
Thank you to our 2021 Celebration Week sponsors:

Restorative Justice Champion Silver Bronze
Anonymous Donor from Lexington Briones Law Group The Balboni Family
Platinum Di and Jack Clymer Ed and Debbie Freeborn
Nancy L. Donahue Debra's Natural Gourmet Diane Juliar
Enterprise Bank Jennifer McDonald
Lydia Gregoret and Charles Wilson Middlesex Savings Bank
The Katz Foundation The Rarich Family
Adriaan Lanni Carolyn Stein
Keith and Polly Man Joan Shulman & Bob Mayerson
Nashawtuc Architects Eric and Laurie Van Loon
Elizabeth Oakes Libby Wilson
Suzanne and Company The Zacharakis Family